Medicare, Chronic Conditions Like Cancer or Diabetes, and You
If you live with a chronic illness or a chronic condition, you may need to receive medical care. Here's how to select a Medicare plan that may fit your needs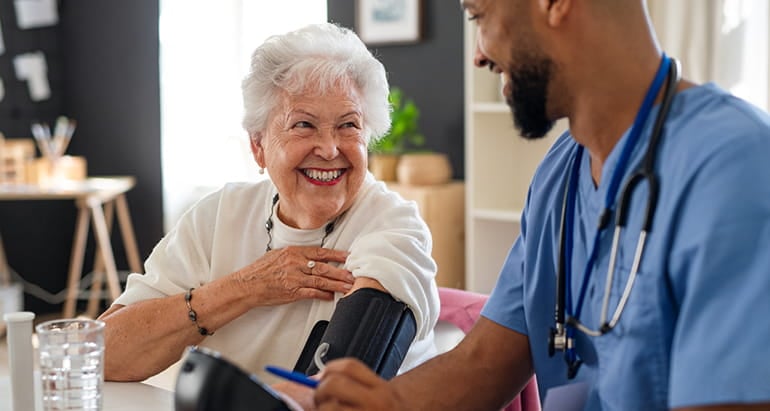 If you live with chronic illness, it's essential to make sure you can receive medical care. But if you're looking into Medicare coverage options, you may feel overwhelmed trying to figure out the best option for you.
Here, we're discussing the most common chronic conditions in older adults and which Medicare plan you should choose to get as much coverage as possible.
Medicare and Chronic Illness
While treatment for these conditions will vary, it can include a combination of doctor appointments, prescription medications, hospital visits when needed and anything else that helps you stay on top of the condition and its symptoms and complications.
Medicare Coverage Options
Ideally, your Original Medicare plan can help save you time and money while providing the care you need. However, individuals who live with chronic illness can have more health expenses than people who do not.
This means original Medicare might not cover all of your health-based bills (especially if you would like to pursue alternative medical care).
A Medicare Advantage plan may be a good choice for people who need more medical care for chronic conditions. If you choose a Medicare Advantage plan, you may be able to access additional benefits that could help manage or even improve your chronic illness. A Medicare Advantage plan includes everything covered by Medicare Part A (hospital coverage) and Part B (medical coverage).
A Medicare Advantage plan is provided by private health insurance companies instead of the federal government. It tends to cover more than original Medicare, and this is why it may be beneficial for people with chronic conditions. Medicare Supplement, on the other hand, pays out-of-pocket costs not covered by Original Medicare.
Choosing A Medicare Advantage Plan
Keep in mind that to qualify for Medicare Advantage, you need to already be enrolled in Original Medicare (Part A and Part B). It's also important to know that you cannot have a Medicare Advantage plan and Medicare Supplement insurance at the same time.
There are a lot of Medicare Advantage plans out there which can be overwhelming. As you research your options, take a look at your potential needs that may be better served by certain plans over others.

If your Medicare Advantage plan doesn't cover prescription drug coverage, you can add a Medicare Part D plan. This will cover prescription drugs.
Finding A Medicare Advantage Plan
Make sure Medicare Advantage plan is available in your area. Enter your ZIP code to
explore plans near you
.
myHealthPolicy is here for you!
Please visit our website or call us at 888-928-1456 TTY:711 to explore insurance coverage options that may fit your needs and budget.

To speak with a licensed agent:
Monday - Friday 9 AM - 9 PM ET
Saturday 9 AM – 5 PM ET
myHealthPolicy.com and K.F. Agency, Inc. are not connected with or endorsed by the United States government or the federal Medicare program.

This material provides general information about the described insurance product(s) for educational purposes only. This is not intended as investment advice or to recommend the insurance product(s).
The Company and its producers do not provide legal or tax advice. Each individual should seek specific advice from their own tax or legal advisors. The general and educational information presented in this material is a sales and marketing piece for insurance products offered by K.F. Agency Inc.