Pivot Health Provides Short-Term Health Plans
For When You Need Protection Right Now
Explore a Short-Term Health Insurance Plan from Pivot Health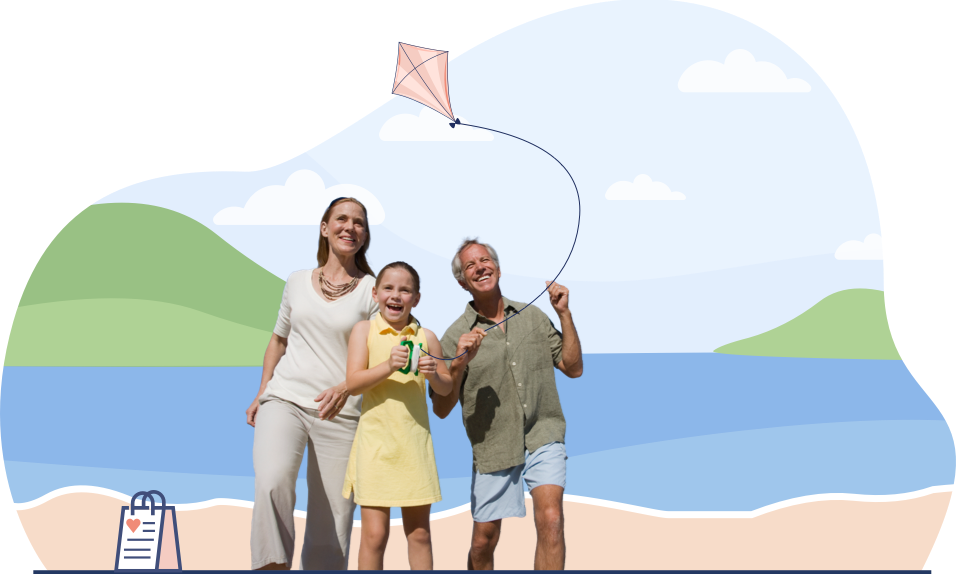 Pivot Health is not affiliated with KF Agency. Plan exclusions and limitations may apply. Products are not available in all states. Short-term medical insurance is underwritten by Companion Life Insurance Company. This coverage is not required to comply with the Affordable Care Act and does not qualify as minimum essential coverage. This is not Medicare, Medicare Advantage, or Medicare supplemental plan.
Why a Short-Term Health Plan Makes Sense
Short-term health insurance is a temporary medical insurance plan that provides important coverage to protect you from unexpected medical bills. It's a good choice whether you're seeking temporary coverage, an economical alternative but especially because life happens.
When unexpected injury or illness happens, being caught without health insurance can mean thousands of dollars in medical debt. A short-term health plan prevents that from happening no matter what stage of life you're in. If you're between insurance coverage, you need financial protection right now that fits your situation and budget.
Let's talk about Short-Term Health Plans!
More Reasons to Choose a Short-Term Health Plan:
Short-Term Health Plan with Dental and Vision Coverage
More than 1 in 4 (26%) adults in the United States have untreated tooth decay1 and nearly half (46%) of all adults aged 30 years or older show signs of gum disease.2
If you're already considering a Short-Term Health Plan, you may want to consider this plan that adds Dental and Vision coverage. It's been proven by the medical community that your vision and especially dental health can directly impact your overall health so supporting it is important.
Speak with a licensed sales agent about a Short-Term Health Plan with Dental and Vision coverage
FAQs and Answers to Common Questions
How is short-term health insurance different than Affordable Care Act (ACA) health Insurance?
With a short-term health insurance plan, you have a health insurance option that can be purchased for 90 days or up to 364 days depending on your state of residence. This provides you with the financial protection you need should an unexpected medical emergency occur.
Short-term health insurance provides flexibility
Many people who do not qualify for a financial tax subsidy find Marketplace Obamacare insurance too expensive to afford. Short-term medical plans generally cost significantly less than Obamacare.
In addition, some Marketplace and off-Marketplace major medical insurance plans have narrow medical networks, meaning you have fewer choices of doctors and facilities to use. When you need medical care, most people want the freedom to choose where they receive care. A short-term health insurance plan can offer you that freedom.
Is short-term health insurance ACA-compliant (Obamacare)?
Short-term health insurance is not required to comply with certain federal market requirements for health insurance, principally those contained in the Affordable Care Act (ACA). These ACA requirements are called "essential benefits" that include preventive care and other benefits the government has deemed "essential" to the life of a health insurance policy. Since short-term health insurance is meant to be a temporary option while you decide to commit to a permanent major medical insurance plan, it does not cover long-term medical treatment like maternity care or substance abuse, in most cases. The insurance carrier is also allowed to ask medical questions to ensure you qualify for this type of insurance. Be sure to read through a policy's plan details carefully to make sure you are aware of any exclusions or limitations regarding coverage of preexisting conditions or health benefits. If you already have a known pre-existing condition or have been told by a doctor that additional medical care might be needed in the future, short-term health insurance might not be the best health insurance coverage for you.
If you qualify for a tax subsidy to reduce your monthly health insurance costs or have a pre-existing condition, an Obamacare plan could be the best plan solution for you. Start at the federal Marketplace or state exchange to see if you qualify for a subsidy. From there you can determine if you should compare costs and benefits with a short-term medical insurance plan. In the end, review all of your options before purchasing.
How does short-term medical meet your needs?
At Pivot Health, our goal is to provide products that help you pivot to meet your own individual health insurance needs today.
On many plans, there are no doctor or hospital network restrictions. Some of our short-term medical plans allow you to choose where you want to receive care.  
Apply online in minutes and, in most cases, get instant approval. You can purchase coverage for 30 days or buy up to 364 days for extended coverage, depending on your state.
Coverage can start in 24 hours.
But Pivot Health goes further. In addition to the medical benefits of our short-term health insurance plan, our membership package includes many non-insurance benefits that help reduce everyday health care costs, and covers other expenses incurred if ill or injured. Benefits include:*
Doctor consultations by telephone or video, 24/7
Skip the waiting room and connect with a physician at a cost much lower than a standard office visit or convenient care facility.

Savings of up to 70% off prescription drugs
Members can save at more than 66,000 pharmacies nationwide.
Discounts of 15%–30% off vision care
Save on eye exams, lenses, frames and contacts.
Short-term health insurance benefits include:
- Up to $1,000,000 in benefits per coverage period
- A range of deductible choices to meet your budget, from $1,000 to $10,000
- Only 20%–30%  coinsurance
- Hospitalization, surgery and medical services coverage
- Physical therapy
- Mental health services
- Home health care and extended care facility
- On select plans, separate prescription drug benefits and copays on physician visits
See exclusions and limitations of short-term health insurance plans in our product brochure.
Can short-term health insurance be used as an alternative to COBRA?
Many events can cause your insurance coverage to be terminated, including voluntary or involuntary job loss, reduction in working hours, job transitions, death, divorce, among others. To mitigate the financial strain and stress that these situations can place on uncovered citizens, Congress passed a federal law called the Consolidated Omnibus Budget Reconciliation Act (COBRA). This act can provide you and your family with continuing coverage of group health benefits for up to 18 months while you search for new work or coverage. However, COBRA can be incredibly expensive, forcing you to pay substantial premiums in order to match the benefits that you used to have. This is an especially distressing problem if you're already struggling with money after losing your job.
It's not recommended to forgo coverage. Just one serious accident or illness could put you and your family on a road to debt if you are uninsured. Fortunately, there are COBRA alternatives that provide all of the benefits you need while reducing the amount of money you spend on coverage each month. For example, enrolling in a short-term health insurance plan will protect you from the extreme costs of unexpected medical complications. Depending on your state's laws, plans can last 30 days, 90 days or up to 364 days, and some of them even offer additional non-insurance benefits to help you save money on everyday expenses.
To help you determine which type of coverage is ideal for your situation, let's review the pros and cons of both options.
The pros of COBRA
COBRA can provide applicants with a range of benefits. With COBRA, you can maintain your health coverage on the same group plan, almost regardless of why your employment or coverage status changed. That means that your insurance won't be lost even if you were fired by your employer (with the exception of gross misconduct), giving you a solid window of time to seek out new professional opportunities or insurance providers.
Additionally, COBRA extends to a wide range of employers. The law generally applies to all group health plans that are maintained by private-sector employers with 20 or more employees, or by state or local governments. (However, this law does not apply to plans that are sponsored by the Federal Government or by churches.) Additionally, many U.S. states have laws that apply to health insurers of employers with less than 20 employees. These are often called mini-COBRAs. If you're interested in determining whether this coverage option is viable for your situation, then you can contact your state insurance commissioner's office for more information.
The cons of COBRA
One of the biggest drawbacks of COBRA is that it limits your coverage window to a maximum of 18 months after your employment ends (unless you have a disability). As a result, individuals who don't manage to find stable employment with health coverage within this timeframe will lose their insurance plan and financial protection from unforeseeable adverse medical conditions. Once your coverage is terminated under COBRA, you will be responsible for paying the cost of medical services out of pocket.
Once again, COBRA plans can be quite expensive if you are struggling to pay the bills after the loss of employment. When you are employed, your company will often subsidize a portion of your insurance premium. This benefit is completely removed when you continue your plan under COBRA, forcing you to pay much more for your coverage than before. In fact, you might even be charged with an administrative fee just for using COBRA. Individuals who qualify for COBRA may be required to pay the entire premium for coverage, up to 102% of the cost to their plan.
Simply put, COBRA is a solid coverage choice if you have the finances necessary to cover the high cost. But it might not be a viable option for families that need to prioritize saving their money.
The pros of short-term health insurance
The most attractive aspect of short-term health insurance is its cost savings compared to COBRA. By investing in a temporary plan while you wait to get permanent coverage, you will be able to commit much more of your income toward living expenses, retirement, house payments, or anything else you'd like to spend your hard-earned dollars on.
Additionally, many short-term health insurance plans can offer you a wide range of choices regarding which doctors or facilities you seek care from compared to other COBRA alternatives. As a member of a short-term health insurance plan, you'll have the freedom to choose where you receive care. You'll be able to work with doctors you trust and respect in locations that are convenient for you.
Unlike COBRA, short-term health insurance plans allow you to reapply for a plan if you still need coverage once your coverage duration has expired (subject to state rules). This feature is valuable for individuals who need to hop between a few jobs before finding one that sticks. Instead of being subjected to the immense pressure of finding a great job with sufficient insurance benefits, you'll be able to take your time and feel out new employers to find the one that perfectly suits your needs and preferences.
Last but not least, short-term health insurance can offer you a diverse range of additional non-insurance benefits to help you manage your health care expenses. Here at Pivot Health, our short-term members are given the following extra non-insurance benefits:
1. Doctor consultations by telephone or video, 24/7
It's time to say goodbye to sitting in the waiting room for hours on end to have minor health problems diagnosed and addressed. With Pivot Health, you will have unlimited remote access to experienced physicians for a fraction of the cost of standard office visits. These health care experts can diagnose many medical issues you or a family member experiences within minutes and quickly send many needed prescriptions to your preferred pharmacy. This benefit is available 24/7 for the entire duration of your plan.
2. Savings of up to 70% on prescription drugs
Pivot Health members can text or email prescription drug discount deals directly to their phone (or print out a discount drug card) for use in over 67,000 pharmacies nationwide, ensuring maximum convenience. After signing up with us, you'll never have to worry about providing sufficient funding for the medication your family needs.
3. Discounts of up to 30% on eye exams, frames, lenses and contacts
If you or any of your family members need prescription glasses or contacts, then you have an intimate understanding of just how expensive these vital visual tools are. And even if you aren't struggling with vision problems yet, your eyesight will likely start to deteriorate as you age. Fortunately, signing up for a Pivot Health short-term health insurance plan will make you eligible for substantial discounts on eye exams, frames, lenses and contacts. This benefit is a massive boon for any individuals who want to save significant amounts of money on eye care or head vision problems off at the pass with preemptive eye examinations.
Extra benefits are not insurance benefits and are not associated with Pivot Health's insurance partners.
The cons of short-term health insurance
Unfortunately, a majority of short-term medical plans won't cover certain pre-existing medical conditions. They usually aren't a good choice for people with serious chronic health issues. Additionally, some of these plans don't offer coverage for certain types of medical care, including maternity care and preventive services. That's why it's always a good idea to read through their terms and conditions very carefully before applying.
Remember, short-term plans are designed to keep your family covered while you transition between work or find a different insurance provider. The benefits they offer can provide insurance stability, but they aren't a permanent insurance product.
Show More
Why should you explore insurance with myHealthPolicy?
We bring you coverage options from some of the most trusted carriers. Our team of knowledgeable sales agents are here to provide information to help you make your decision.
One location for your insurance needs
Access to carriers of choice and details about their available plans and benefits.
Coverage choices, not confusion
Trusted comparison tools so you may research and see how different plans stack up.
A network of support
Our knowledgeable agents can provide you insights on competitive offers.
Let's have a conversation!
If you want to learn more, we're available by phone or over a cup of coffee...