When Your Partner Can No Longer Drive: 5 Tips to Help
Driving is one of life's milestones and symbols of independence but what if you can't anymore? We've got five tips to help you and your partner manage.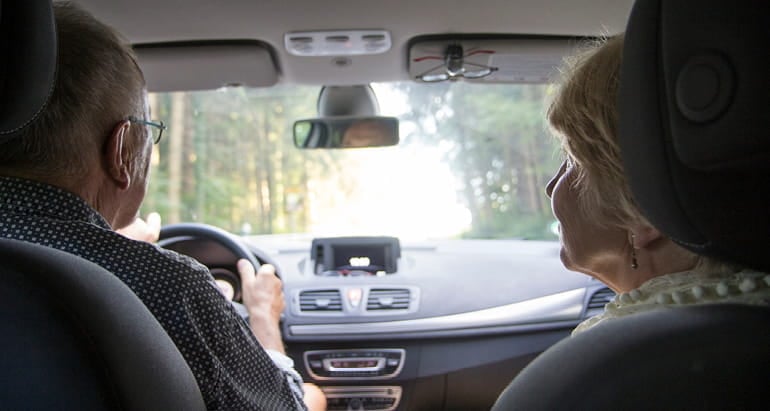 It probably doesn't seem that long ago when you first got your driver's license. That exhilarating sense of freedom and independence, the first real foray into adulthood. Before long, driving likely became less exhilarating and more about shuttling kids to and from school, sports, activities or even more exciting…battling commuter traffic.
Learning to drive is one of life's milestones and is often celebrated as a rite of passage, but no one talks about when you hang up the keys and stop driving. What does that look like? How do you cope when it wasn't something you wanted but you had to stop driving due to a health challenge or something else? How does it impact your spouse or partner if all the driving is left to them?
In 2020, there were almost 228.2 million licensed drivers in the US with a 34% increase of older drivers age 65 and above from 2010 to 2019 with older drivers representing 20% of all licensed drivers in 2019.1
What's less clear is how many people stop driving as that isn't always tracked. You can stop driving but still have an active driver's license.
Reasons people stop driving
Reasons people stop driving
There are many reasons why people stop driving including the following:
Driving services and public transport: With an increase in driving services (like Uber), and greater accessibility to public transportation options, there's less of a need to have a license and car.

The cost financially and environmentally: The cost of driving can be expensive from insurance, to owning a car and the maintenance it takes to keep it running then add the cost of gas and driving can be a pretty expensive endeavor. There's also the environmental impact of owning a car as well. According to the Environmental Protection Agency (EPA), "A typical passenger vehicle emits about 4.6 metric tons of carbon dioxide per year."

Medical conditions: There are certain medical conditions including vision problems like macular degeneration, cataracts, seizure disorders or dementias that can cause one to stop driving. Maybe your reflexes aren't what they once were or maybe you just don't feel safe being behind the wheel anymore.
Regardless of the reason why you stop driving, the day will come for many of us when we do and that can mean a major lifestyle change. Not just for you, but for your spouse or partner too who might still be driving and will be left with the responsibility of it all.
So, how do you cope?
Be patient with yourself and your nondriving spouse. If you're used to a certain routine, it will take time to adjust to the new normal. No longer sharing the load of something like driving responsibilities can take some getting used to. The topic can frequently be a point of contention in a relationship when one partner won't willingly give up driving when it's no longer safe for them to be on the road. Be patient with each other, offer grace and space for your own feelings on the matter.
It's OK to grieve. Driving represents far more than simply operating a vehicle. It's an avenue of independence and control over one's coming and goings, and when that ends, it's normal to feel a sense of loss even if you chose it. It can be more profound if you didn't choose to stop driving and had to abruptly give it up. Grief and loss come in many forms over many things. You may find yourself going through the five stages of grief and loss: denial, anger, bargaining, depression and acceptance. Talk about your feelings with your spouse, a close friend or a therapist to process how you're feeling.
Tips from a couple living it
Bill and Lorraine Murphy live in a suburb west of Boston, Massachusetts. Bill had suffered a stroke back in 2012 and then several years later had an unnerving incident in the car that made he and his wife feel unsafe about him driving so he willingly gave it up. This left all driving to his wife Lorraine who admits that she loves to drive and she was OK to take on the responsibility.
1. Plan errands and build in breaks for longer trips. "Bill has been driving me around since our first date over 54 years ago, and I loved to just relax and enjoy the ride," shares Lorraine, "Sometimes, I miss being the passenger to just enjoy the scenery but now I also love planning the trip and look forward to going to different places much more." Both Bill and Lorraine are fortunate to be on the same page about when and where they go via car. If your spouse used to get up early and do errands but you preferred later day jaunts, plan it out so both halves feel a sense of control.

For longer trips, like vacations taken by car, make sure you build in extra breaks since you both can't share the driving tasks. Turn the situation into a positive by breaking up a long road trip with some extra nights or stops along the way. Look at it as an opportunity to see and visit places you might not have if you both were driving.


2. Don't be a back seat driver! We all know the stress of encountering a "back seat driver," Bill shares that he became what he calls a "front seat driver." He says, "The most difficult thing I faced as a former driver is that I became a 'front seat driver.' My wife Lorraine is a very good driver with no accidents or tickets but it was getting used to her not driving the way I did that I had to adjust to. My comments ended up being about trivial things like how we held the steering wheel differently or how we would handle stop and go traffic. All of these things were completely unnecessary on my part and something I've had to overcome."

Lorraine agrees, "It's been a challenge to have a person in the front seat all the time and adjusting to any anxiety they may have about their safety or change in driving style."

3. Bring something to read. Bill strongly recommends bringing something to read for the ride, "When you're reading, you don't see things that your driver does and you won't be tempted to say, 'Watch this guy on your right!' or 'How long do you plan staying in this left lane?' things that will only stress out your spouse."

4. Schedule time apart. If you're the driver, schedule alone time in the car once in a while. Lorraine shares, "One thing that I do really miss is time alone in the car. It's heaven to head out on your own and I loved that but I don't want to hurt Bill's feelings so I now schedule some shopping trips on my own." Don't feel badly about taking the time you need. Have a conversation about it so you each can articulate your needs. If this is a sticking point, plan it so that your non-driving partner has something to do while you're out on your own.

5. Be sensitive. Lorraine shares, "Be sensitive as the only driver and aware that your spouse has really given up control and that's hard for anyone to have to do, no matter the reason. Do everything you can to ease their frustration and anxiety if you're able. Be patient, remember that we would all like to drive as long as possible."
myHealthPolicy is here for you!
Please visit our website or call us at 888-928-1456 TTY:711 to explore insurance coverage options that may fit your needs and budget.
Help us, help you!
Provide your information
This material provides general information about the described insurance product(s) for educational purposes only. This is not intended as investment advice or to recommend the insurance product(s).
The Company and its producers do not provide legal or tax advice. Each individual should seek specific advice from their own tax or legal advisors. The general and educational information presented in this material is a sales and marketing piece for insurance products offered by K.F. Agency Inc.