Maintaining Friendships When Health Issues Get in the Way
Making friends in retirement can be difficult, but it could help boost your mental health. Learn how to keep up with friendships even if health issues get in the way.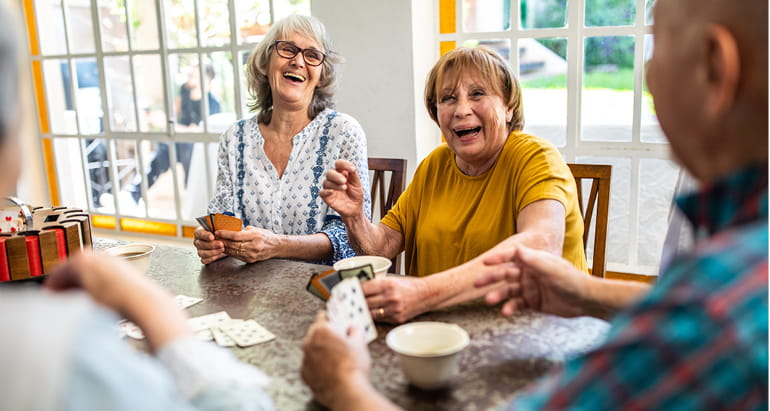 Retirement might seem like it's all about relaxing. But in at least one area, you may find yourself working harder than ever: making and maintaining friendships. New health issues can make it difficult to keep up with your friends. However, research shows the importance of friendships in retirement soyour hard work will be worth it. Here's how to maintain friendships even while dealing with chronic illness or other medical issues.
Why friendships in retirement are difficult
As you age, your friendships may look different than they once did. You or your friends might be dealing with health issues or medical conditions. These could affect how often you're able to get together as well as the activities you're able to do.
You might not feel well enough to get together with friends on a regular basis. Maybe you can't keep up with the activities your friends used to enjoy like an exercise class. Or maybe your friends struggle to understand the medical issues you're going through.
These are all very real issues that could have a detrimental effect on friendships. However, despite these challenges, it's incredibly important to work on maintaining your friendships as much as possible.
The importance of friendships in retirement
Friendships are an important aspect of life and statistics show that in retirement, friendship becomes more important than ever. A report from the National Academies of Sciences, Engineering, and Medicine found that one-fourth of adults 65+ are socially isolated. And social isolation has been linked to health consequences including depression, accelerated cognitive decline, poor cardiovascular function, impaired immunity and more.
That's why healthy friendships can have an equally positive effect on our health. They enrich and improve our lives and are a wonderful way to provide the human connection we all need, especially if you live alone or don't live close to extended family.
What's more, friendships in retirement may be even deeper and more fulfilling than friendships when you were younger. As an older adult, you've developed better relational skills and have a lifetime of experience to bring to the table.
How to meet new friends after retirement
In addition to maintaining the friendships you already have, try adding new friends to your circle, too. Making new friends in retirement might sound like a tall order. Throw health issues and an ongoing global pandemic into the mix, and it might seem impossible but there are still ways you can find friendships in retirement.
Try reconnecting with old friends or introducing yourself to acquaintances to take the relationship deeper. Make an effort to meet your neighbors, attend a local church or other place of worship, or ask a friend to introduce you to their other local friends. Take the initiative to make the first move, asking somebody if they'd like to come over or meet for lunch.
Depending on the nature of your health issues, you may be able to find a local class or club that's a good fit for you, such as an afternoon painting class. If you aren't sure whether the organization will be able to accommodate your physical needs, reach out and ask.
Another option is to find somebody who is good at a skill you'd like to acquire and ask them for private lessons. The lessons can be done on your own schedule as your health allows. And not only will you gain a new skill, you may gain a new friend in your teacher, too.
There are also support groups for people with certain medical conditions and health issues and that's another way to meet people who share your struggles and another potential avenue for connection.
Keep in mind that while it's nice to have friends who are in a similar stage of life, your friends don't necessarily have to be fellow retirees. Try inviting a young mom, dad, or set of parents over to your house. You can visit with them while their kids play in your yard. Don't be afraid to get creative with making new friends in retirement.
Social media sites can also be an excellent resource to meet people. You may want to join a Facebook group based around a hobby you enjoy, or look for an online conference or webinar about a topic you're interested in. The internet makes it easy to communicate with new friends all around the world, creating the perfect outlet to make friends with chronic illness.
Prioritize friendships as much as physically possible
Even when health issues are impacting you or your friends' lives, it's important to keep up with your friendships. The difficulties involved with friendships in retirement are real. But so are the benefits that will come when you prioritize the people who mean the most!

myHealthPolicy is here for you!
Please visit our website or call us at 888-928-1456 TTY:711 to explore insurance coverage options that may fit your needs and budget.
Help us, help you!
Provide your information
This material provides general information about the described insurance product(s) for educational purposes only. This is not intended as investment advice or to recommend the insurance product(s).
The Company and its producers do not provide legal or tax advice. Each individual should seek specific advice from their own tax or legal advisors. The general and educational information presented in this material is a sales and marketing piece for insurance products offered by K.F. Agency Inc.