Coping When Your Friend Has Alzheimer's
Learn how to help a friend with Alzheimer's disease.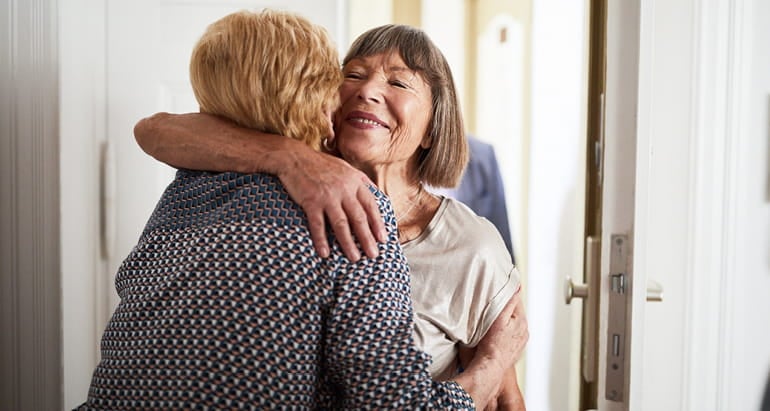 Do you know someone who has Alzheimer's disease? Currently, about 5.8 million people in the U.S. have Alzheimer's and related dementias. By 2060, that number is projected to rise to an estimated 14 million people.
If your friend has Alzheimer's, this might make your relationship difficult. When someone has memory loss, it can bea challenge to maintain a connection with them. And it can be hard to watch their mind deteriorate.
Here are some ways to cope if your friend has Alzheimer's.
What is Alzheimer's Disease?
Alzheimer's disease — the most common type of dementia — is a brain disorder that destroys memory and thinking skills over time. Eventually, people with Alzheimer's will no longer be able to carry out even simple tasks.
Symptoms of early stage Alzheimer's might include memory problems, issues finding the right word or impaired reasoning. Many people with Alzheimer's are unable to drive a car, cook or pay bills. You might notice them losing things or repeatedly asking the same questions. Sometimes, as the disease progresses, people will become extra worried, violent or angry.
How to help a friend with Alzheimer's
Alzheimer's disease is a difficult diagnosis and especially hard when it's a friend whom you care deeply about. Being present and obtaining as much information as possible is important. You may want to consider the following as you navigate your friendship as it enters this new normal.
Conduct research
Researching the disease is the first step to discovering how to help your friend or family member. Use resources such as the articles and videos from the Alzheimer's Association.
It's helpful to talk with mutual friends so you're all aware of some of the hallmarks of the disease so you're aligned in knowing how to handle them. These can include unusual confusion, memory loss, mood or personality changes and lack of interest in familiar tasks.
Create a dementia care plan
Sometimes family isn't local so if you may want to consider bringing up the conversation of a dementia care plan to your friend's family and offering to help however you can. This will be the first step in getting medication, having a home and driving safety evaluation completed and preparing for advanced home care needs.
Offer to help with creating to-do lists, going on walks with your friend or serving as a reprieve for your friend's full-time caregiver whenever possible by visiting your friend with Alzheimer's. Remembering that your friend is still the same person you knew before their diagnosis is very important. Taking care of yourself is important as well.
Suggest activities you can both enjoy
You can still spend time with your friend whom you know and love, even if your activities have to be somewhat modified to accommodate your friend's new limitations and needs. Choose from the following ideas:
Make a memory book — look through old pictures together and create a scrapbook (this provides a great opportunity to have dialogue about the people in the photographs and their relationship to your friend)

Water house and garden plants

Listen to their favorite music

Watch their favorite show or movie

Do an arts and crafts project, such as painting or drawing

Cuddle, feed or brush a household pet (research has shown many benefits for people who have dementia)

Cook together

Plant or tend a garden

Have a picnic together

Write cards or letters to friends and family members

Present an instrument the person used to play. Play, whistle or sing along (research has shown that music has emotional and behavioral benefits for people with Alzheimer's)

Be patient
If your friend is frustrated or they don't seem to enjoy the activity, switch to something else. Try to engage in meaningful and productive activities when you can. This boosts the person's mood and helps them feel a sense of purpose, which can often be an area that is lacking for those with Alzheimer's disease.
Many people wonder how to talk to a friend with Alzheimer's. Use simple words and clear instructions and patiently wait for a response; don't interrupt. Do not talk to the person in a baby voice. Continue to treat them as your peer — be warm and friendly while asking simple questions.
Alzheimer's disease can be a devastating diagnosis with many complexities. By following these tips, you can continue to maintain a relationship with your friend. Even if they don't recognize you, continually remind them that they are known and they are loved.
Want more information? Please read 5 tips for caring for someone with Alzheimer's.
myHealthPolicy is here for you!
Please visit our website or call us at 888-928-1456 TTY:711 to explore insurance coverage options that may fit your needs and budget.
Help us, help you!
Provide your information
This material provides general information about the described insurance product(s) for educational purposes only. This is not intended as investment advice or to recommend the insurance product(s).
The Company and its producers do not provide legal or tax advice. Each individual should seek specific advice from their own tax or legal advisors. The general and educational information presented in this material is a sales and marketing piece for insurance products offered by K.F. Agency Inc.