Long-Distance Grandparenting: Tips to Connect with Grandchildren When You're Miles Apart
Don't let long-distance grandparenting prevent you from bonding and creating lasting memories with your grandchildren. These tips will help!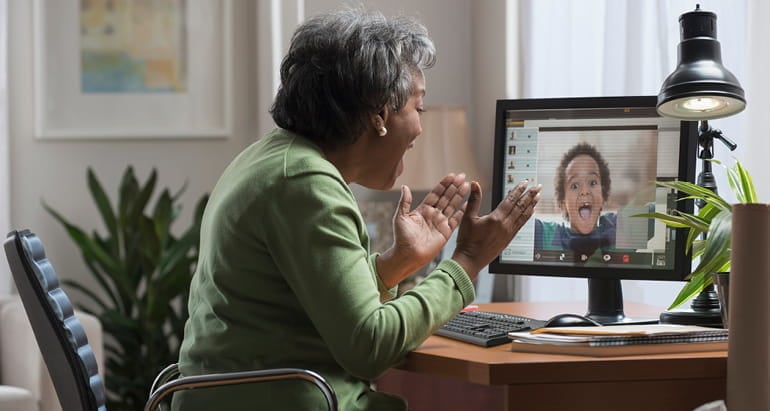 Grandparenting is one of the greatest joys in life, however, it can be challenging to keep pace with your grandchildren's daily lives when you live many miles away.
Although distance is a factor, finding ways to stay connected and build meaningful relationships with your grandchildren as they grow is possible. All it takes is a little patience, imagination and creativity!
Take advantage of technology
We are fortunate to live in an age where technology brings us closer together whether we're across town or across the globe. Technology offers many options for connection and is a perfect way to shorten the miles between you and your grandkids. Here are a few suggestions:
Consider a device like the no-frills, easy to use GrandPad. Its streamlined design can help you to communicate with loved ones.

Depending on the age of your grandchild, check out Facetime, Zoom, WhatsApp or Google Hangouts. They are free and easy to navigate online chat services and your older grandkids will be impressed with your tech savvy!

If creating and organizing your own online activities feels too stressful, consider subscribing to an online service like The Long-Distance Grandparent. They provide a variety of free and paid resources to help you strengthen the long-distance relationship with younger children.

Invite your grandchildren to send you digital projects, videos or messages through a variety of easy-to-use web or tablet applications. Children are usually well-versed on how to use many different tech tools and apps to design, create and communicate. Your grandchildren may even be able to teach you a thing or two about technology!

Purchase a digital picture frame that allows your grandkids or their parents to text photos to surprise you. You can also send a frame to your grandchildren so that you can share photos of your adventures.

Ask your children to send along video of your grandkids' plays, recitals and sporting events. Then schedule time to watch the events with your grandchildren so they can see your reaction and enjoyment in real time.

Set up watch parties on a variety of streaming services. Your grandchildren will love spending time watching a movie or program with you. Popcorn is optional!

Read aloud or record stories for your grandchild, or write a story together, taking turns using a shared document on Google or another platform.
Special extras can mean a lot!
Who doesn't enjoy receiving a little something in the mail whether it's a package or card? This is especially true for kids. Always check with mom and dad first before sending a gift or food but the following are ideas to get you started.
Send a care package with a handwritten card or note inside. Your grandchild will be thrilled to receive home baked goods and other surprises. Nothing says, "I love you", quite like a box of personalized goodies and treats.

Create a 'Birthday in a Box' with a baked treat, streamers and presents. Schedule a Zoom, FaceTime or Google Hangout to celebrate with your grandchild.

Send a back-to-school (or college) surprise package with a new outfit, backpack and school supplies.

Send flowers for special occasions. Even though you are not able to be there in person, your presence will be felt as the beautiful arrangement will serve as a reminder of your love.

Write heartfelt letters each year and save them in a keepsake box. Present the letters to your grandchild on a special date in the future.
Meaningful memories
There are other meaningful ways to connect with your grandchildren including providing a legacy gift of education. Here are a few ideas:

If you're able, consider supporting your grandchildren financially. You may want to open or add funds to a 529 account to help pay for education expenses.

Purchase a special piece of jewelry or artwork that your grandchild will have as a loving memory for years to come. Or you can pass down an heirloom object that has family significance.

Create a photo memory book featuring your yearly highlights and send it to your grandchildren. Encourage their parents to do the same for you.

Write or record family stories to share with your grandchildren. They will love to hear about your childhood adventures and those of their parents.
myHealthPolicy is here for you!
Please visit our website or call us at 888-928-1456 TTY:711 to explore insurance coverage options that may fit your needs and budget.
Help us, help you!
Provide your information
This material provides general information about the described insurance product(s) for educational purposes only. This is not intended as investment advice or to recommend the insurance product(s).
The Company and its producers do not provide legal or tax advice. Each individual should seek specific advice from their own tax or legal advisors. The general and educational information presented in this material is a sales and marketing piece for insurance products offered by K.F. Agency Inc.